Fathers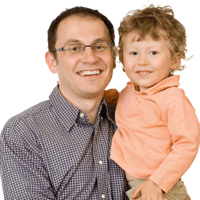 The arrival of a baby is a time of huge change not just for mothers, but also for fathers. Fathers can be forgotten as mother and baby can receive most of the attention. A baby can bring great joy but may also add unpredictable stresses to the family.
About 10% of men can experience depression after childbirth.
If a mother is unwell with PND or a related condition, then fathers can have their own unique problems:
The father can be forgotten as the mother struggles to cope.
Fathers are expected to cope and provide support to mother, baby and any other children.
Men often suffer in silence. They may feel very misunderstood during this important transitional time in their life.
Fathers are usually working as well as helping more at home.
Men feel under more "pressure" at this time.
Pregnancy is a challenging time for fathers as well
What does the future hold?
Will his partner and baby be healthy?
Will he be able to provide for the family?
How will his relationship with his partner change?
Does he feel an important part of his baby's growth and development?
Being a father doesn't come naturally
For many fathers babies are an unknown quantity. Contrary to popular belief, how to handle and relate to a baby does not come naturally. There is no easy operations manual!
How a man copes with becoming a father depends on many factors. Some are:
His own experience of being fathered.
Whether he finds relationships easy or challenging.
Whether he has had contact with babies and children before.
Fathers and mothers relationship
Modern day expectations on fathers can be stressful. Early discharge from hospital and less availability of family supports can place more burdens on the father.
Fathers can feel excluded from the relationship between the mother and the baby. In fact, fathers have felt so excluded that this has been called "the fourth trimester". Two thirds of fathers may experience their own version of the 'blues'. They can feel inadequate for the task in hand, less in control of their own lives and "on the outer" in their relationship with their partner.
Mothers don't mean to exclude the father but they are trying so hard to get their own mothering right that they become preoccupied with the baby and overlook their partner. Inadvertently they may be pushing away their most valuable support.
The birth of the baby has brought about the loss of the familiar partner that he had known. It also brings the loss of the relationship that they once shared. There is the loss of control, loss of intimacy and the loss of how things used to be.
A new relationship is formed
Fathers and mothers have similarities and differences in the way they relate to their infants – dads need to find their own way. Like mothers, fathers can also experience what has been called "engrossment' with their baby (wanting to stare at the baby for long periods of time). The relationship between father and baby is important.
Healthy adjustment
This means that a safe and secure relationship has occurred between father and baby. To help this happen, a father must:
Make a commitment to baby and mother.
Take and negotiate responsibilities.
Develop and maintain the relationship.
Maintain family integrity.
Balance activities.
Have a strong sense of being a father.
Fathers tend to have less robust social support compared to women. It is not the "male thing" to talk about adjusting to fatherhood and the extra stresses that go with it. Men are more reluctant to seek help for emotional issues.
Fathers adjust best if they are included in the process of pregnancy, childbirth, and caring for the baby. Fathers need to spend time developing their relationship with the baby. This will also help their mood.
See also a website for fathers with information on postnatal depression, http://fatherandchild.org.nz/projects/post-natal-depression/
REFERENCES
Condon JT, Boyce P, Corkindale CJ. The First-Time Fathers Study: a prospective study of the mental health and wellbeing of men during the transition to parenthood. Australian and New Zealand Journal of Psychiatry 2004; 38: 56-64.
Donovan J, Barclay L, England J, Ramsay A. Men's transition to parenthood. In: Laws T (ed.), Promoting Men's Health: an essential book for nurses. Ausmed Publications, 1998; 143-155.
Lovestone S, Kumar R Postnatal psychiatric illness. The impact on partners. British Journal of Psychiatry 1993; 163: 210− 216.
Matthey S, Barnett B, Ungerer J, and Waters B, Paternal and maternal depressed mood during the transition to parenthood. Journal of Affective Disorders 2000; 60: 75-85.
St John W, Cameron C, McVeigh C. Meeting the challenge of new fatherhood during the early weeks. Journal of Obstetric and Gynecologic and Neonatal Nursing 2005; 34: 180-9.